50th Reunion Details

The reunion committee has been working for the past 12 months planning our 50th reunion weekend. To keep overall costs down, many of the events will be offered on an optional, pay-as-you-go basis. Online registration is now open at a cost of $33 per person (if you pay by credit card), or $30 per person (if you pay by check, electronic funds transfer, or debit card). If you plan to pay by electronic funds transfer or debit card, you'll need to download these instructions for using Pop Money.
If you want to bypass online registration, you can also download our Registration Form, complete the application, and mail the form along with your payment to Lauren English, P.O. Box 1672, Pottsboro, TX 75076.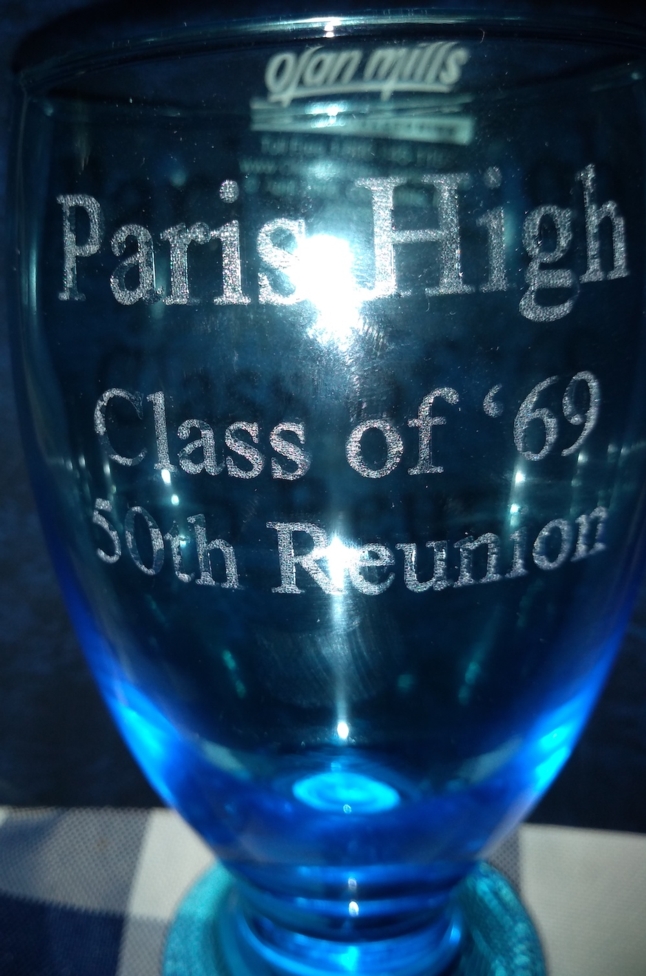 Orders are also being taken for a special 50th Reunion Souvenir Glass. This blue drinking glass with event inscription is being sold for $5 per glass. You may place your order along with your reunion registration or visit our 50th Reunion Souvenir Glass order page and place your order separately. Payment must be received by Monday, Oct. 7, and glasses may be picked up at the reunion. A limited supply of glasses will be available for sale at the reunion.
Reunion event details follow and include information about what the registration fee covers and does not include.
Friday, Oct. 18, Events:
3-4 pm Paris High pep rally in Wildcat Gym
(Class members who attend will sit as a group and be recognized)
5-7 pm Casual mixer at Fairgrounds Building
(The Burgerland food truck will be on hand to sell a burger & fries combo for $8. The class will provide soft drinks/cups/water/ice/decorations. Alcoholic beverages will be on a BYOB basis.)
7-10 pm PHS vs. Argyle football game at Wildcat Stadium
(We will sit in a designated general admission section. Attendees are responsible for admission to the game. General admission tickets are $6, but senior citizens can normally obtain free admission by showing an ID verifying age to gate attendants. Our class will be recognized at the game.)
?-? Post-game ad-hoc mixer at site(s) TBD
(Class members may choose to visit local establishments following the Fairgrounds mixer and/or game)
Saturday, Oct. 19, Events:
Note: The majority of the day is left open for class members to organize activities of their own choosing. Some classmates may wish to play a round of golf and many will want to reserve time to visit family/friends/landmarks.
5-7 pm Tour of Lamar County Historical Museum
(The Museum, located next door to Heritage Hall, will be available for attendees for a private group tour prior to our main reunion event. A $3 per person donation is recommended.)
7-10 pm Class Reunion at Heritage Hall
(Hole in the Wall will cater heavy hor d'oeuvres. Cost is included in the registration price along with the services of a security guard and photographer. It is anticipated that a class photo will be taken early (about 7:30 pm). The class will provide decorations (coordinated by Iva & Bobby Hargroves of Traditions Flowers and Gifts), soft drinks/cups/ice, and music. A cash bar will be available, which means outside alcoholic beverages are prohibited.)
Sunday, Oct. 20, Events:
9-10 am Memorial Service at PJC's DeShong Chapel
(Duane Hamil will conduct the service as we remember our departed classmates.)
10:30 am Farewell Brunch at area restaurant TBD
(This will be a dutch treat event at a local restaurant to be announced.)
To summarize what is and isn't cover by the registration fee:
Registration will include:

Setups for Friday night mixer

Saturday night reunion catering, soft drinks, security, group photographer, decorations

Sunday Memorial Service

The following is NOT included in the registration:

Friday night mixer food & alcohol (BYOB)

Friday night football game admission (could be free for senior citizens)

Donations for Saturday tour of Historical Museum

Saturday night alcohol (cash bar)

Sunday farewell brunch