In Memory
Phillip Nance -Coach VIEW PROFILE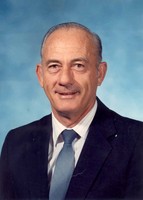 Philip A. Nance, 76, long-time school administrator of Paris died Saturday, July 3, 2010 in Frisco,Colorado.
Funeral services are scheduled for 11:00 A.M. Friday, July 9, 2010 in the chapel of Fry-Gibbs Funeral Home. Burial with military honors will follow in Evergreen Cemetery. The family will receive friends at the funeral home, Thursday July 8, 2010, from 6:00 P.M. to 7:30 P.M.
Mr. Nance was born April 29, 1934 in Paris to Rufus and Ruby Martin Nance. He attended schools inParis and graduated from Paris High School. He received bachelor, and master degrees as well as his Administrative ticket from East Texas State University in Commerce.
He married Joyce Clark in Paris on September 12, 1958 in Paris. He was a member of the Air Force serving during the Korean Conflict and reaching the rank of Staff Sgt.
Coach Nance taught and coached at Graham school. He was the first coach at Travis Jr. High. He then became and assistant coach at Paris High, later becoming head coach and athletic director. Following that, he was assistant principal at Paris High and then principal at Crockett Middle until retiring in 1991. He loved history, and that was the subject he taught while in the classroom. He stayed in retirement for three years until joining the Lamar County Appraisal District on a part time basis, where he was still an employee.
He enjoyed raising roses, iris, and lilies as well as camping and traveling. He loved the outdoors and considered Colorado as his second home. They had spent vacations there for the last 30 years and were there at the time of his death. He and his wife had traveled all over the U. S. He extremely enjoyed having fish fries and cookouts with his family, especially his children and their spouses and his grandchildren.
He was a member of the Texas State Teacher's Association, the National Education Association, a life member of the Veteran's of Foreign Wars, and Oak Park United Methodist Church. He taught Sunday school for many years in the old Garrett United Methodist Church.
While growing up, his family owned and operated the Nance Bus Lines. It offered service to CampMaxey, northeast Texas, and southeast Oklahoma during and after WW II.
He is survived by his wife, Joyce, of Paris; three daughters, Carrie Cornelison and husband Danny, Becky Lamberson and husband Johnny, Lisa Maberry and husband Dale all of Paris, and one son, Keith Nance and wife Gina, also of Paris; eight grandchildren, Jennifer Pitcock, Jamie Lamberson, Chris Lamberson, Courtney Maberry, Cade Mayberry and wife Regan, Clay Maberry, Caitlin Nance, and Philip Michael Nance; three step-grandchildren, Jason Cornelison, Carla Cornelison, and Skylar Hoskins; two great grandchildren, Braylan and Maddox Maberry; one sister, Eloise Ryan of Wisconsin; two nephews, Mike Horne of Paris and John Ryan of Wisconsin; and a brother-in-law, Bill Clark and wife Sharon of Powderly.
He was preceded in death by his parents; a sister, Dorothy Horne; and two nephews, Steve Horne and Bob Ryan.
Click here to see Phillip's last Profile entry.