In Memory
Sidney Gross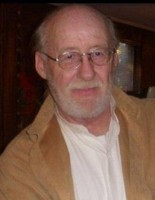 Sidney Gross, 61 of Paris died in his home, July 29, 2012. Cremation is under the direction of Bright-Holland Funeral Home. His family has scheduled a Memorial Service for 5:30 pm, today, August 2, 2012 at the Holy Cross Episcopal Church in Paris.
Sidney graduated from High School in Paris and earned a degree in Landscape Architecture from Richland College in Dallas, where he lived for the majority of his life. He had a great love of landscaping and automobiles. He will be missed by all who knew him for his sense of humor and big personality.
He was preceded in death by his parents Patty & Jack Gross of Fayetteville, AR. Survivors include his mother, Willie Martin of Texarkana, AR; a son, Richard Gross; granddaughters, Kiera and Lilythe Gross; sisters, Amanda Gross and Amy Mason and a brother, Jonathan Gross.
In lieu of flowers the family requests memorials be given to the charity of one's choice.
To leave a message or tribute for the family please visit www.brighthollandfuneralhome.com.
Richard Sidney Gross, 3 Jun 1951 - 29 Jul 2012:
THE PARIS NEWS, Monday, July 30, 2012, p. 1, by Krista Goerte: "Man Found Dead - Neighbors ask police to check - A Paris man who may have died in late June was found dead in a bathtub Sunday evening in the 200 block of 5th Street S.W., according to Curtis Garrett, public information officer for Paris Police Department. Paris police responded to a call about 61-year-old Richard S. Gross, who had not been seen by his neighbors in a few weeks. Officers found the front door of the house locked, a small chain on the back screen door locked from the inside and an interior unlocked back door. The water was still running and had been running for some time as most of the home was flooded, Garrett said. 'By information gained from a utility notice, it appears that the man may have died as early as June 27,' Garrett said. 'Mail was found that was dated May 20 in the mailbox addressed to the deceased. Nothing was disturbed in the home.' Justice of the Peace Ken Ruthart was called to the scene and pronounced Gross dead about 5:30 p.m., the time officers arrived on scene. The deceased's next of kin was located in Arkansas and notified."

THE PARIS NEWS, Tuesday, July 31, 2012, p. 1, by Krista Goerte: "Man may have died in May - Death Believed to Be From Natural Causes - Further investigation has led Paris police to believe 61-year-old Richard Gross, found dead Sunday in his bathtub in his home on 5th Street, likely died about May 20, according to Paris Police Chief Bob Hundley. The chief said mail delivery was not checked after that date, which also coincides with his last known contact by other people. 'Water bills showed an abnormal increase in water usage beginning in the May/June bill and continued into the June/July bill,' Hundley said. 'The water department had sent a routine letter asking the resident to check for water leaks regarding the unusual increase in water usage.' Hundley said water was still running in the bath tub when officers entered the house to check on Gross Sunday. A thorough crime scene search failed to provide any indications of foul play and the death is believed to be from natural causes, the chief said. On entry, police found the front door of the house was locked and a small chain on the back door screen was locked from the inside. 'In this day where neighbors choose to keep to themselves, we appreciate the neighbors on 5th Street being concerned about Mr. Gross to the point of calling the department for a security check,' Hundley said. 'We should all be mindful of our elderly neighbors, especially in these days of 100-plus temperatures to check on them when we can and when it's appropriate to make sure they are OK.'"

Information from Bright Holland Funeral Home: The family requested cremation to be conducted under the continued care and direction of Bright-Holland Funeral Home. Currently, no services have been scheduled.