In Memory
Frank Homer -Friend Of The Class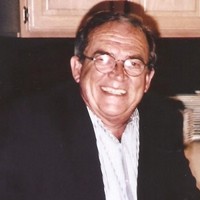 Known to many as "Big Frank," he was a longtime community leader and businessman active in many aspects of Paris society.
"My dad – how do I start this? When he commits to something, he gives his all. I believe strongly Sonic is here today and is as successful as it is today because of men like my dad," son Mark Homer told eParis Extra! recently. "He always taught me the world's full of givers and takers and you have to be a giver. If everybody was a taker, you don't survive."
That attitude is why Frank got involved in local schools. He started Blazette Day, where the Paris High School dance squad would come to work at Sonic and receive part of the day's sales.
He also served as director of Lamar County Chamber of Commerce, Boys Club of Paris and the Our Lady Victory Catholic Church council overseeing church expansion. He served on the advisory board of St Josephs Hospital.
"He immersed himself him in Paris," Mark said. "Dad was all about Paris. Dad loved Paris. He wanted to make sure any opportunity Paris had, he was there behind it and did his best to make it work."
He added that people often showed their appreciation by eating at Sonic. They also recognized his generosity personally. His awards include accolades from the Optimists and Sonic, as well as being named to the Lamar County Boys and Girls Club Wall of Honor. The Paris Education Foundation selected him as the 2004 I Love Paris honoree.
"When I'm in Paris – and it's been going for years – I run across somebody; I might know them, I might not know them, and they stop and ask, How's your Dad doing?" Mark said.
Frank not only cared about the town, but its people, as well. Anyone sitting down with him needed to be ready to talk, Mark said, because he was genuinely interested in how they were doing.
"He'll ask about your family," he said. "He very sincerely wanted to know that you're doing good and everything is on track for you. If you needed some advice or help, and if he could do it, he was willing to do it."
That attitude carried over to his role as a father, as well. He got involved in their lives, helping improve golf swings and throwing a ball around. He'd find people to help his children improve their games. He was known to borrow a Volkswagen Bus from a local dealership to take girls back and forth from games. He even coached youth baseball teams.
"He's always been very supportive. He was the best cheerleader," Mark said. "Dad did that for everybody, not just us. He always wanted to let people know they did well."
He remained supportive throughout their lives. Mark spent 12 years in the state Legislature, and it was his father who first told him that Mark had the support of several key players if he decided to run.
Frank perhaps is best known for starting the first Sonic in Texas. The Homers – Frank and Molly with their children Karen, Mark and Frank Jr – moved to Paris from Shawnee, Okla., in August 1964. Another daughter, Monica, was born after they settled down in Texas.
Frank had managed a Sherwin-Williams store in Oklahoma, but left after a disagreement in which "they didn't fulfill a promise," Mark said. He was also a member of the Army Reserves. His commanding officer was a young lawyer whose father was also an attorney representing a man with a fast food concept that ultimately became Sonic. Frank trained at one of the first Sonics in Shawnee and then moved to Texas.
"That's all I've ever known," Mark said. "My family's done Sonic all our whole lives. It was great."
Sonic was where all the "cool people" – especially the high school kids – hung out, Mark said. Even when he got to high school, it was still the place to go. People cruising Lamar would circle through Sonic to see who was there.
"Dad got me started working there. I was 12 when I started working at the Sonic," Mark said. "It was a great experience for me. It taught me how to work."
Frank's work ethic rubbed off on countless employees. Mark said he frequently hears from people who worked for his father and credited him for helping them learn how to work strong and hard.
The family still owns the business, with 14 restaurants in Texas, including all three in Lamar County. They also own stores Florida and Oklahoma. In fact, the company's in its third generation. In addition to Mark, his brother-in-law, Eddie Clement, handles day-to-day operations and nephew Jason Bailey also works there.
The stores on North Main and in Reno opened in the mid-1990s. That first Sonic on Lamar Avenue closed in 2007 and moved a few blocks east near Lamar and 24th Street. The old store became a donut shop.
"Every time I drive by, it's hard to look at it," Mark said. "I feel like I left a child on the side of the road. I have a lot of good memories there."