In Memory
Brenda Roden (Terry)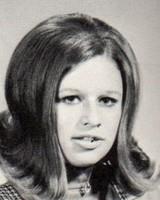 Brenda Jean Roden Terry, 64, of Paris, left this earth on May 31, 2015 at home after a battle with pancreatic cancer.

The Burial Mass will be held at 11:00 a.m. Tuesday, June 2nd at Holy Cross Episcopal Church in Paris with The Reverend C. Jeff Kraemer Celebrant and The Reverend Betty Clement, Deacon assisting. Inurnment will be in the Columbarium of Holy Cross. Visitation will follow the service in the Parish Hall. Bright-Holland Funeral Home has charge of arrangements.

She was born to Mark & Mae Roden in Paris on March 21, 1951.

Survivors are her husband, Mark Terry of Paris, daughter, Sabina Parker and husband Rex of St. Jo, Texas, daughter, Danielle Terry of Paris and beloved grandson, Ethan Armstrong of Paris along with many other relatives, friends and Cash (family golden retriever). She was preceded in death by her parents.

Honorary pallbearers are: Suzy Harper, Barbara Fendley, Amelia Frierson, Sue Bercher, G. R. Fasken, Lauren English, Nancy Jessee, Kelly Harper and Keitha Chalupa.

The Mariner Sail that shades the playground of the Episcopal Day School is dedicated to Brenda and her valued service as a board member of the school. If desired, in lieu of flowers, memorials may be made to EDS at 320 South Church St., Paris, TX 75460 for the shade and stone threshold into the playground inscribed with her quote: "Children give us the gifts of gratitude, imperfection and loving without limitations".

Brenda received a Bachelor of Arts from The University of Texas Arlington, a Master of Science from Henderson State University and a Master of Science in Counseling from Texas A&M University Commerce. She was an acknowledged leader in her chosen field of counseling. She was in private practice in Paris from 2006 until 2014 at Counseling Professionals of Northeast Texas. Brenda served on many professional boards and wrote papers as well as led workshops. She was one of the pioneers in the field of Corporate Wellness in North Texas. Among her many honors were the Outstanding Graduate Student Award and the Marilyn and Jerry Morris Distinguished Graduate Student Award from Texas A&M Commerce. Boards and affiliations include Episcopal Day School board member, Board of Directors at Texoma Credit Union in Wichita Falls, Leadership Wichita Falls graduate and board member for the American Heart Association and American Cancer Society in Wichita Falls.

Brenda was a friend and confidant to many who will treasure her wise words. She was always a learner and always a teacher.

Grateful thanks from the family go to: Dr. Bercher, Rachel and Linda with Platinum Hospice, Dr. Cochran, Kelly, Trudy & the chemotherapy nurses at Texas Oncology, the many friends of Holy Cross Episcopal Church who brought meals and flowers and to all of our friends who provided their prayer, calls and cards.