In Memory
Clift Sammons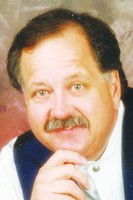 William Clift Sammons was born in Paris, Texas on Dec. 5, 1950 to James P. Sammons, Jr. and Gretchen Clift Sammons and passed on Dec. 24, 2013. He was educated in the Paris schools and graduated in 1969. He attended Paris Junior College, Texas Tech University where he was a member of the Sigma Phi Epsilon fraternity. He graduated from UT Arlington with a degree in Marketing and Finance. Clift's career was in the field of steel construction. He passed on
He was preceded in death by his father, James P. Sammons, Jr., his grandparents Mr. and Mrs. Paul Sammons, Sr. of Paris and Mr. and Mrs. Oliver E. Clift of Waxahachie.
He is survived by his mother, Gretchen Sammons Lewis and sister, Dr. Barbara Murphey of Plano and his brother, Paul Sammons of Temple, Texas.
Clift enjoyed playing guitar and was an avid hunter. He was a member of the Dallas Safari Club and the Central Presbyterian Church of Waxahachie.
Services to celebrate his life are scheduled for 2 p.m. Saturday, Jan. 4, 2014, graveside at the Waxahachie City Cemetery with the Rev. Polly Williams and the Rev. Matt Curry officiating. Arrangements are under the direction of Wayne Boze Funeral Home in Waxahachie. www.waynebozefuneralhome.com