Paris

High School

- Paris, Texas


Class Of 1969
50-Year Reunion: October 18-20

Paris High 1969 Classmates, registration is now open for our 50-Year Class Reunion: Fri-Sat-Sunday, Oct. 18-20. Check out event details by visiting our 50th Reunion Details page (click on navigation link on the left side of this page).
You may register using our 50th Reunion Registration page (click on navigation link on the left side of this page). You will have the option to
Pay by Check or Debit Card ($30 per person)

Pay by Credit Card ($33 per person)
If you wish to pay by electronic funds transfer or debit card, you'll need to download instructions for using Pop Money; otherwise you can mail your check or money order to Lauren English, P.O. Box 1672, Pottsboro, TX 75076 to complete your registration.
If you prefer to skip our online registration, you may instead download a registration form, complete the paper application, and mail the form and your check to Lauren at the above address.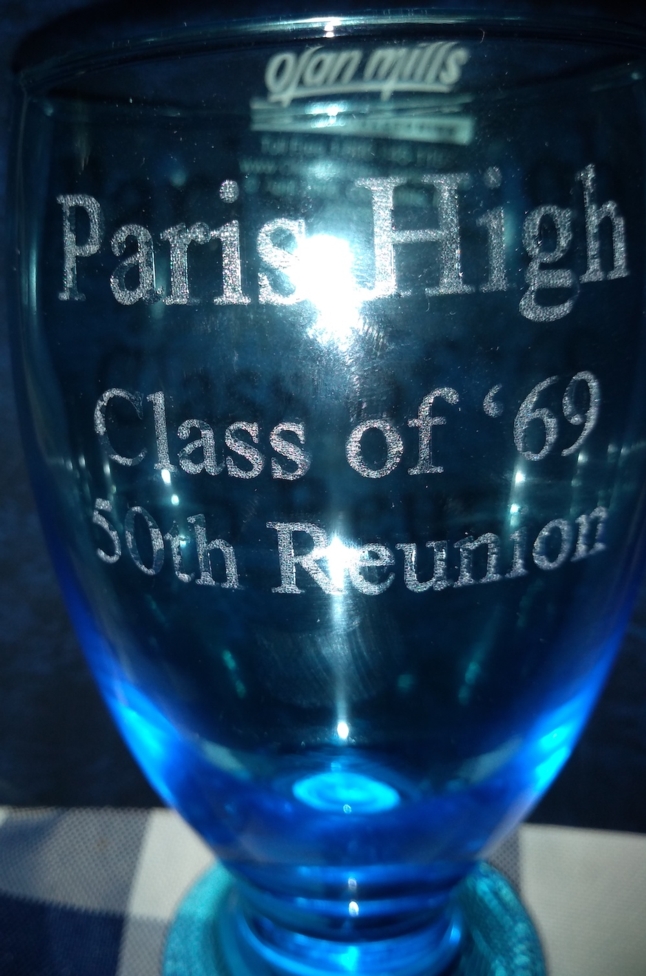 Orders are also being taken for a special 50th Reunion Souvenir Glass. This blue drinking glass with event inscription is being sold for $5 per glass. You may place your order along with your reunion registration or visit our 50th Reunion Souvenir Glass order page and place your order separately. Payment must be received by Monday, Oct. 7, and your order may be picked up at the reunion. A limited supply of glasses will be available for sale at the reunion.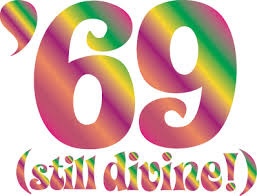 ____________________________________________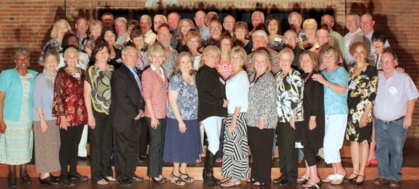 The Class of 1969... 45 Years Later!
We had loads of FUN both Friday and Saturday nights.
Loved catching up with old friends!

To see some pictures, click on the link on the left side.

Join us on Facebook
PHS Class of '69
Since many of us are thinking about retiring,
I thought this list might be helpful!
Retire to Phoenix, Arizona where...
1. You are willing to park 3 blocks away because you found shade.
2.. You've experienced condensation on your hiney from the hot water in the toilet bowl.
3. You can drive for 4 hours in one direction and never leave town.
4. You have over 100 recipes for Mexican food.
5. You know that "dry heat" is comparable to what hits you in the face when you open your oven door.
6. The 4 seasons are: tolerable, hot, really hot, and ARE YOU KIDDING ME??!!
OR
You can retire to California where...
1. You make over $250,000 and you still can't afford to buy a house.
2. The fastest part of your commute is going down your driveway.
3. You know how to eat an artichoke.
4. You drive your rented Mercedes to your neighborhood block party.
5. When someone asks you how far something is, you tell them how long it will take to get there rather than how many miles away it is.
6. The 4 seasons are: Fire, Flood, Mud, and Drought.
OR
You can retire to New York City
where...
1. You say "the city" and expect everyone to know you mean Manhattan ..
2. You can get into a four-hour argument about how to get from Columbus Circle to Battery Park, but can't find Wisconsin on a map.
3. You think Central Park is "nature."
4. You believe that being able to swear at people in their own language makes you multi-lingual.
5. You've worn out a car horn. (Ed. Note if you have a car).
6. You think eye contact is an act of aggression.
OR
You can retire to Minnesota where...
1. You only have four spices: salt, pepper, ketchup, and Tabasco ..
2. Halloween costumes fit over parkas.
3. You have more than one recipe for casserole.
4. Sexy lingerie is anything flannel with less than eight buttons.
5. The four seasons are: winter, still winter, almost winter, and
construction.
OR
You can retire to the Deep South where....
1. You can rent a movie and buy bait in the same store.
2. "Y'all" is singular and "all y'all" is plural.
3. "He needed killin" is a valid defense.
4. Everyone has 2 first names: Billy Bob, Jimmy Bob, Mary Ellen, Betty Jean, Mary Beth, etc etc.
5. Everything is either "in yonder," "over yonder" or "out yonder."
It's important to know the difference, too.
OR
You can retire to Colorado where...
1. You carry your $3,000 mountain bike atop your $500 car.
2. You tell your husband to pick up Granola on his way home and so he stops at the day care center.
3. A pass does not involve a football or dating.
4. The top of your head is bald, but you still have a pony tail.
OR
You can retire to the Midwest where...
1. You've never met any celebrities, but the mayor knows your name.
2. Your idea of a traffic jam is ten cars waiting to pass a tractor.
3. You have had to switch from "heat" to "A/C" on the same day.
4. You end sentences with a preposition: "Where's my coat at?"
5. When asked how your trip was to any exotic place, you say, "It was different!"
OR
FINALLY You can retire to Florida where...
1. You eat dinner at 3:15 in the afternoon.
2. All purchases include a coupon of some kind -- even houses and cars.
3. Everyone can recommend an excellent dermatologist..
4. Road construction never ends anywhere in the state.
5. Cars in front of you often appear to be driven by headless people.
____________________________________________________________________
I loaded some old penny postcards of Paris
from back in the day.

Click on "Paris Postcards" in the
left column to take a look.
Enjoy!
---------------------------------------------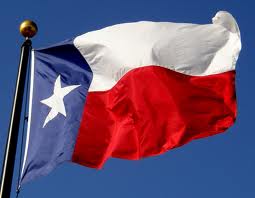 I am proud to be from Texas - where tea is sweet and accents are sweeter; summer starts in April; front porches are wide and words are long; macaroni and cheese is a vegetable; pecan pie is a staple; Y'all is the only proper pronoun; chicken is fried and biscuits come w/ gravy; everything is darlin' and someone is always getting their heart blessed.
Sonic Blast!
Sonic Drive-In has been a staple in Paris since Frank Homer moved his family here in 1964 and established the first Sonic in Texas. In 1993 he added a second location at 1603 N. Main, and in 1997 a third location in Reno. In 2007 the Sonic moved from its original location on Lamar in Paris to a new location a couple of blocks east.

How exciting that original Sonic on Lamar Avenue was to us Class of Sixty-Niners when we raced there every weekday for lunch and cruised and met there at night and on weekends!
Do you have any old pictures of Paris landmarks?

Dig through those old boxes of pictures and send me one....
everyone loves to see them!
Post your guess on Message Forum

You're right one the one on the bottom --
it is Barrett's diving pool (14' deep)
being cleaned.
How about these?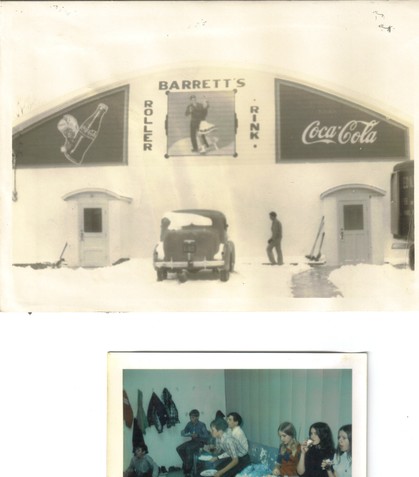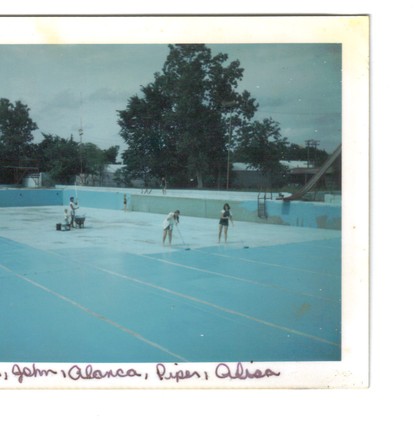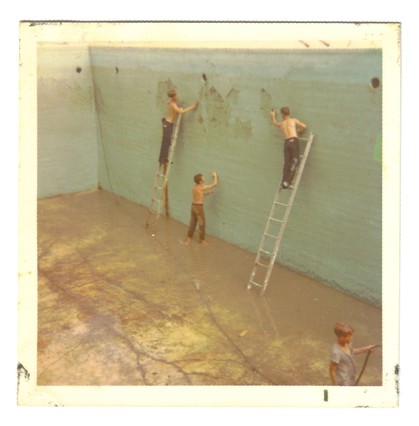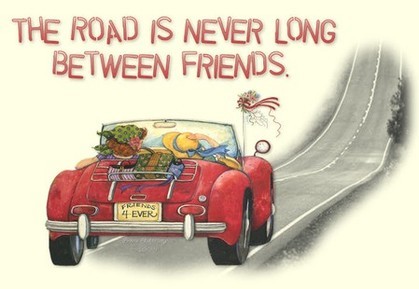 _______________________________________________________
Tidbits Submitted Anonymously
by One of Our Classmates...
July 16, 2010
It's time to retire when . . .
You start calling everyone "kids."
One day you notice everyone is dressed differently than you.
You stop to think and sometimes forget to start again.
It's always cold at work, and you're never quite comfortable without a jacket or sweater.
Getting a little action means your

prune juice

is working.
Everyone can operate all the new gadgets in the office but you.
One entire drawer is given over to antacids, aspirin, vitamins and prescriptions.
You are usually the only one sober enough to drive people home after

office parties

.
You feel like the "morning after" and you can swear you haven't been anywhere.
Your kids are through college and may be even earning more than you.
One day you suddenly realize everyone in the office is younger than you.
You write notes on slips of paper and then forget where you put the slips.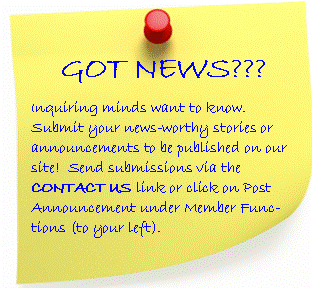 Slideshow from our April 2009 reunion